In Uganda, about 60% of women over fifteen-years-old have experienced physical violence; which is almost twice the global rate. In 2016, the odds of injuries in Uganda due to sexual and gender-based violence (SGBV) were 1.36 times in females compared to males. This violence, which can include domestic abuse, sex trafficking, sexual assault and female genital mutilation (FGM), can be attributed to a number of factors. Poor law enforcement, weak prevention policies, poverty, lack of education, substance abuse and attitudes have all contributed to a cultural acceptance of SGBV, which can lead to a lifetime of challenges for victims.
Left untreated, trauma resulting from SGBV can lead to:
Increased alcohol/substance abuse
Impulsive/high-risk behaviors
Re-enacting the trauma in destructive ways
Physical manifestations – pain, panic attacks
Relationship and family problems
Difficulty regulating emotions
Depression, anxiety, difficulty concentrating
Higher incidence of health problems
Sr. Judith Athieno, SSHJ, knows first-hand the effects this violence can have; she is herself a trauma survivor. Not only can she relate to their experiences, but she also knows how to help victims and perpetrators of SGBV to heal.
A sister of the Sacred Heart of Jesus, Sr. Judith is an alumna of ASEC's Sisters Leadership Development Initiative (SLDI) program, which provides leadership and technology training to Catholic sisters in Africa. In this three-year program, Sr. Judith participated in the Administration Track, receiving training in management, collaboration, conflict resolution, human resources, resource mobilization and more.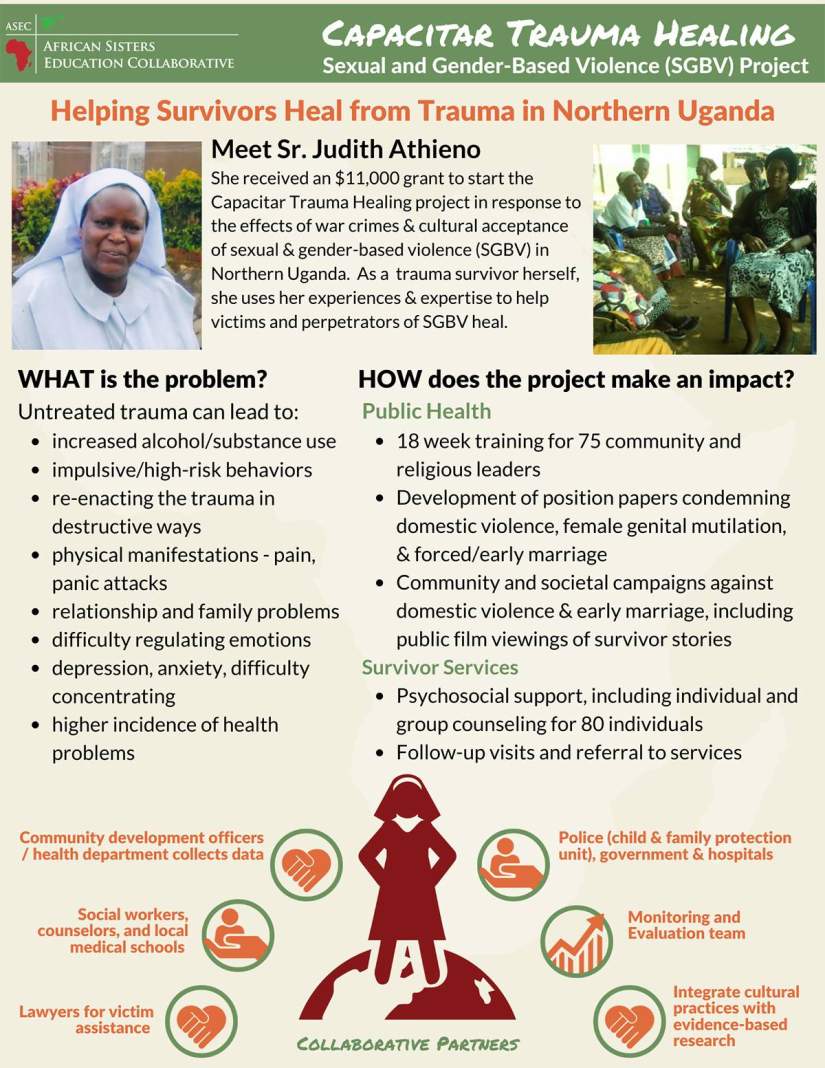 After graduating from SLDI, Sr. Judith had the confidence needed to approach influential people in her town and successfully secure a grant to establish the Capacitar Trauma Health Project in Northern Uganda. The project is making a huge impact in response to the effects of war crimes and cultural acceptance of SGBV by providing public health and survivor services. They publish position papers and produce community campaigns condemning domestic violence, FGM and forced/early marriage, including hosting public film viewings of survivor stories. They also provide 18-week training for community and religious leaders to contend with SGBV among their constituents.
The Capacitar Trauma Health Project also provides psychosocial support for survivors through individual and group counseling, serving over 80 individuals thus far. Capacitar provides ongoing support through monitoring and evaluation while integrating cultural practices with evidence-based research. Survivor services include follow-up visits and referrals from collaborative partners such as social workers, counselors, local medical schools, lawyers, police, government and hospitals.
The education Sr. Judith received through SLDI provided her with the skills needed to establish the Capacitar Trauma Health Project, which has in turn created jobs and served over 600 people in her community. By providing physical and emotional support to trauma survivors, the project works to heal people in Northern Uganda affected by sexual and gender-based violence. As Sr. Judith noted,
"Above all, [we are] helping our people to move away from the sickness of ignorance."