While there has been some progress toward gender equality in Africa in recent years, the reality is gender inequality is deeply rooted within the social structures of most communities. Childhood marriage, physical and sexual violence, lack of access to education and barriers to economic independence are daily realities for many African women.
But sometimes it takes just one person to show women the way to better opportunity. Sisters graduating from ASEC's Sisters Leadership Development Initiative (SLDI) and Higher Education for Sisters in Africa (HESA) programs are proving to be that person.
ASEC's SLDI program provides Sisters in Africa with leadership and technology training over a three-year period. Upon completion of the program, Sisters are able to use their education to continue their work at home and to mentor other Sisters.
Many SLDI alumni continue onto ASEC's HESA program, which provides women religious in Africa opportunities to earn undergraduate and master's level education. Through partnerships with higher education institutions in the U.S. and Africa, Sisters can use their education to improve service to their communities.
Sisters in these programs are leading the way on journeys previously unimaginable for females throughout Africa by providing education, services and training. But perhaps most importantly, they are living examples of the reaching power of women encouraging women.
Building economic capacity through skill and peace building in Kenya
Sr. Josephine Muthoni Kwenga, SSJ, recognized the need to empower women dealing with violence, income setbacks, poverty and healthcare crises in Kenya. Her social justice project, Women Peacemakers with Alternative Livelihood, seeks to serve women in Nairobi and rural areas in Mwala-Machakos County. The project focuses on supporting marginalized women, including individuals living in extreme poverty and living with HIV/AIDS (infected or affected).
Sr. Josephine's project is run through the AOSK Association of Sisterhoods in Kenya (AOSK) Justice & Peace Commission (JPC) office. She empowers women through economic capacity building activities like bead work, crocheting, sustainable farming of drought resistant fruits trees and chicken rearing. The women engage in peace building initiatives using tools like peace circles to influence individual families and communities to reduce cases of domestic/ethnic violence.
A 2015 SLDI graduate of the Administration track, Sr. Josephine learned technology and administration skills that help her to be more effective in her work with the JPC. She said,
"Among all what I learnt, I treasure grant writing because I have improved my skills."
Sr. Josephine's resourcefulness, paired with her recognition of the power of enabling women in need, has encouraged progress toward gender equality.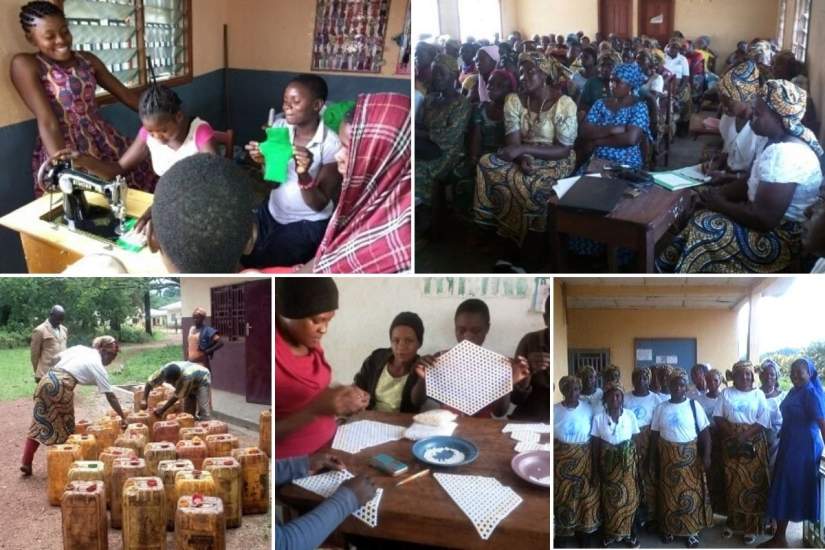 Training and educating women toward economic self-reliance in Cameroon
Sr. Caroline Acha, SST, works in a remote, rural area of Northwest Cameroon called Sabongari, where she has created a Women's Empowerment Center. The Center offers training and education to local women, which in turn helps them create and obtain jobs.
In addition, the women buy food when prices are low, then sell when prices increase to improve their profit margins. This income makes it possible for women to send their children to school and afford hospital fees when their children are sick. The Center also helps girls and women through the production of reusable sanitary pads.
Sr. Caroline graduated from the Administration track of SLDI in 2015 and credits SLDI and ASEC with the skills that help her work effectively in her ministry. Sr. Caroline commented,
"Our hope is to maintain consistency and leave a legacy based on the positive impact we create on the lives of the people we minister to."
That positive impact will have lasting influence on the women of Northwest Cameroon.
A Nigerian sewing circle means employment and opportunity
Sr. Justina Ijeoma Elom, SJGS, is a member of the Sisters of Jesus the Good Shepherd (SJGS) Abakaliki congregation in Nigeria. Following her participation in the SLDI program, she established St. Helen's Sewing Centre to employ the poor.
The sewing center has since doubled its number of employees and while none of the workers are able to read, they are enrolled in adult secondary school. The profits from the sewing center have also provided for motorized boreholes to bring water to communities that otherwise would not have access. Sr. Justina stated,
"We trained two Sisters how to sew, who went further to specialize in sewing of liturgical vestments. They are now experts in that field."
The sewing center also led to the creation of Living Bread Bakery and Good Shepherd Vocational School for Girls, which both provide training and employment.
After completing the SLDI program, Sr. Justina said she "planned to teach [the community] to harness their resources, work together and make their future brighter."
Her plan has worked.
"With the budgeting skills I acquired in SLDI program, I was able to monitor and use our resources very judiciously," said Sr. Justina. "Other skills that helped me include leadership, facilitation, team building and personality type and need assessment."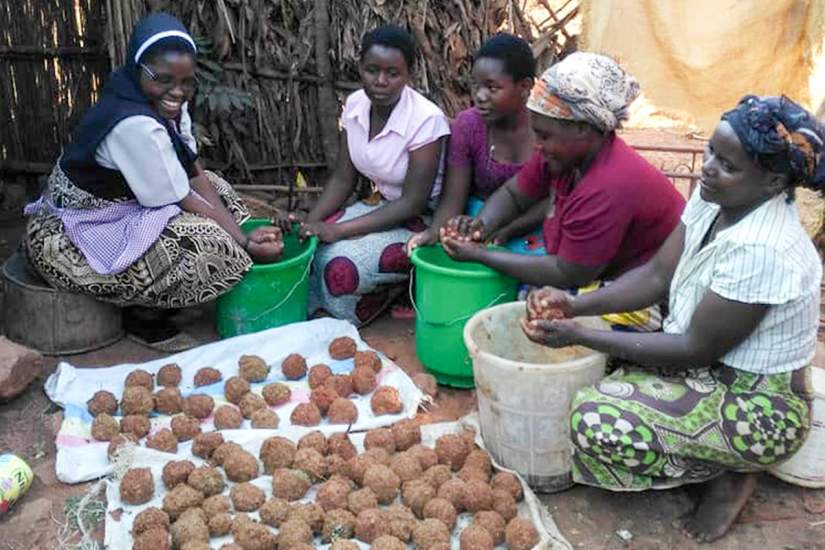 Reducing risk and daily hardship while earning a living in Malawi
Sr. Jane Perpetual Chitete, SCO, found a way to reduce the daily burden on the women of Kalulu Hill in the Mchinji District in Malawi, while also providing them with an opportunity to earn a profit.
In this region, women must walk long distances through the forest in search of dry wood for cooking and heating their homes. The strenuous but necessary journey is also dangerous, as it puts women at risk of rape. Finding an alternative to firewood would have a dramatic effect on the quality of life for these women.
Sr. Jane found the solution at the nearby Kachebere Seminary Carpentry Shop. She teaches women a simple recipe made from water and sawdust from the shop to make briquettes to replace traditional firewood. Not only are the women relieved of the early morning, long and dangerous walk to dry firewood, but they are also able to sell the briquettes for a profit.
Sr. Jane is a participant in ASEC's HESA program and studies at the Catholic University of Malawi. It's evident that her education has honed her creative problem-solving and leadership skills. Her innovation has led to improved safety and quality of life for women, in addition to economic opportunity.
Income-generating skills reduce the gender gap in rural Ghana
Sr. Stephany Ayomah, SMI, is an SLDI program participant. One of her initiatives is a women's group called the Ordorme Rural Women's Empowerment Project, where she teaches local women in Ordorme, Ghana, a variety of income-generating skills such as farming, batik tie dye and soap-making.
The program humbly began with training sessions under a mango tree, but heavy rains and dust would often interfere with the group's activities.
Using the grant-writing skills she learned in SLDI, Sr. Stephany was able to acquire funds to build a 200-capacity meeting hall. The women in the program meet for training, which enable them to sell the crafted items and produce, both individually and as a group. Group sales allow Sr. Stephany to give out small loans to assist the women with unexpected expenses like medical bills.
The knowledge Sr. Stephany gained through SLDI also enabled her secure funding to build offices and a silo to store the women's farm produce and other items. Her efforts have inspired about 100 women to join this very active group. The skills they are learning from Sr. Stephany are reducing the gender gap and building hope in the community.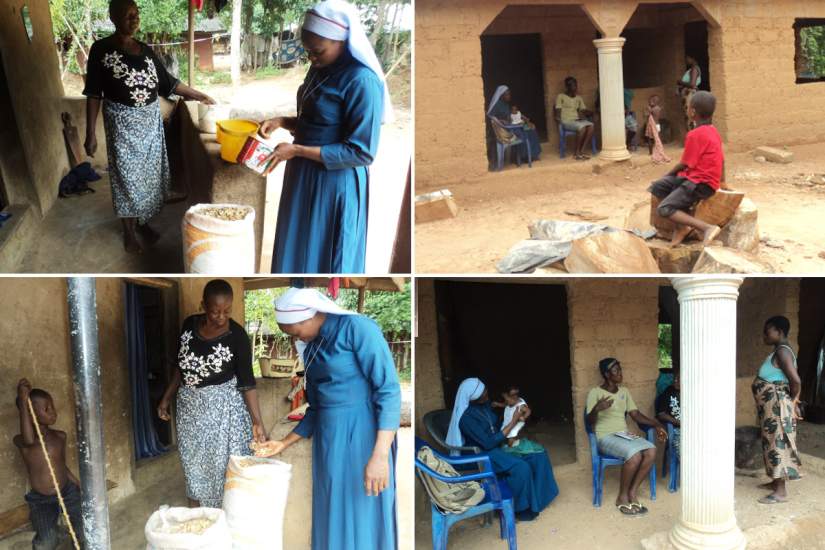 Strengthening household economics through training in Nigeria
SLDI alumna Sr. Veronica Chibuzor Iloh, SJGS, works in Ebonyin State, Nigeria where she provides life skills and economic training. One of her pupils was Mrs. Agu Elizabeth, a widow and caregiver.
Mrs. Agu had a business selling ogbono (a type of seed used in the popular Nigerian dish, ogbono soup). After her husband's death, Ms. Agu's business became her family's only source of income. The household was left in a state of poverty, as the business was not able to fully support her family.
Mrs. Agu enrolled in Sr. Veronica's program, which provided Mrs. Agu with a small donation and financial literacy training. This support led to improved business practices and in turn, a greater profit. Mrs. Agu now fully supports her family to live comfortably and is just one of the success stories to come from Sr. Veronica's programs.
It is thanks to her participation in the SLDI program that Sr. Veronica is able to educate and encourage women to take the lead in their business and provide greater support for their household and their community.
Encouraging girls with disabilities in Kenya
Sr. Anne Kamene Musyoka, ASN, is dedicated to empowering girls with varying mental and physical disabilities. As Director of Cheshire Home for Girls in Limuru, Kenya, she provides residential and training programs for the 35 girls in the home, helping them reach their full potential.
Sr. Anne developed two previously unused acres surrounding Cheshire Home to become a farm that not only feeds the girls, but also generates income to help sustain the home. Through local fundraising efforts, Sr. Anne also purchased two ovens that are used to teach the girls to bake and sell their baked goods to a local school.
Each girl is contributing to the success of the Home by participating in these programs, leading to a sense of responsibility and ownership over the community they are building together.
Sr. Anne graduated in May of 2016 with first class honors from HESA. With a Bachelor of Arts in Development Studies from Catholic University of Eastern Africa (CUEA), Sr. Anne says she is "able to use the skills I got in school to maximize on the resources we have."
Sr. Anne's strategic mind and ability to creatively problem-solve consistently empower the girls of Cheshire Home.
Through the foundation of their education, ASEC and SLDI alumnae consistently provide a stable foundation for the building up of other women and their surrounding communities. Whether it's providing economic independence, reducing the difficulty of daily living in harsh environments, or enabling those with physical and mental disabilities, the effect of women empowering women is cumulative and great.