ASEC: Our Team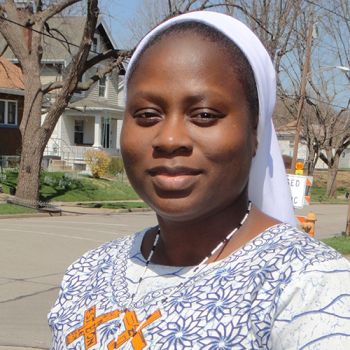 Sr. Veronica Fatoyinbo, SNDdeN
Director – Nigeria



Areas of Expertise: teaching, mathematics, team building, protection of children

Sr. Veronica Tinuke Fatoyinbo is a member of the religious congregation The Sisters of Notre Dame de Namur (SNDdeN), Nigeria province.

She served at St. Michael International School, Kontagora as the school finance officer and moral instruction teacher, from 2006 to 2011. She served at Mount Notre Dame High School, Cincinnati, Ohio, 2015 during her student teaching experience.

Sr. Veronica obtained her Bachelor of Science in General Mathematics and Professional Education from Xavier University, Cincinnati, Ohio in USA, 2015. She had training in Protecting God's Children (child abuse) also in Preparatory and Continuous Education (PACE). She attended Global Youth Congress organized by Hope University, Liverpool, United Kingdom.

After completing her studies, she was missioned to Notre Dame Girls' Academy, Amoyo, Kwara State, where she served as a mathematics teacher and in many committees as needs arise from January 2016 till 2019.

She had been a strong member of various committee in her province such as media committee, vocation coordinator and property manager. At diocesan level, she worked with the Young Catholic Students (YCS), Catholic Women Organization (CWO) and she has been involved in teaching catechism.

She has great interest in team building and interpersonal skills. Additionally, she enjoys empowering, supporting and collaborating with people because she believes that these will help humanity (especially women) a great deal to bring about a just and better world.

Presently, she is serving as the ASEC Country Director in Nigeria, West African.
Contact Information
vfatoyinbo@asec-sldi.org
P: +23470-6766-9095

Contributions