As the COVID-19 pandemic unfolded, communities across the world were impacted significantly by the virus. With a population of 17.86 million people, Zambia has reported approximately 86,100 confirmed cases of COVID-19 to date. The fatality rate is estimated at 1.4%. However, a recent study out of Lusaka, Zambia has concluded that the rates of COVID-19 have been greatly underestimated due to a lack of widespread and systematic testing within the community.
Although the exact impact of COVID-19 in Zambia is unclear, it remains imperative to limit the spread of the virus to ensure the health and wellbeing of the community. One sister in particular, an alumna of ASEC's Sisters Leadership Development Initiative (SLDI) program, is doing just that.
Following the first cases of COVID-19 identified in Zambia in March 2020, Sr. Astridah Banda, OP, collaborated with the humanitarian organization, Alight, to create the COVID-19 Awareness Programme. Similarly to the rest of the world, an atmosphere of fear overcame Zambia. In an interview with Sr. Astridah, she recounted that she became alarmed following the news of deaths in the United States and Zambia's weak healthcare system. She says,
"I think on my part I was alarmed. It was scary. We were seeing reports from the European countries and America of people dying. ...I was wondering how we were going to keep ourselves safe, how the community would be safe." -Sr. Astridah Banda, OP
In addition, myths and misconceptions about the virus were spreading among her community, contributing to the fear. Sr. Astridah knew she must take action. She partnered with the non-profit organization, Sisters Rising Worldwide, to obtain personal protective equipment for her community and to better understand the available information on the coronavirus.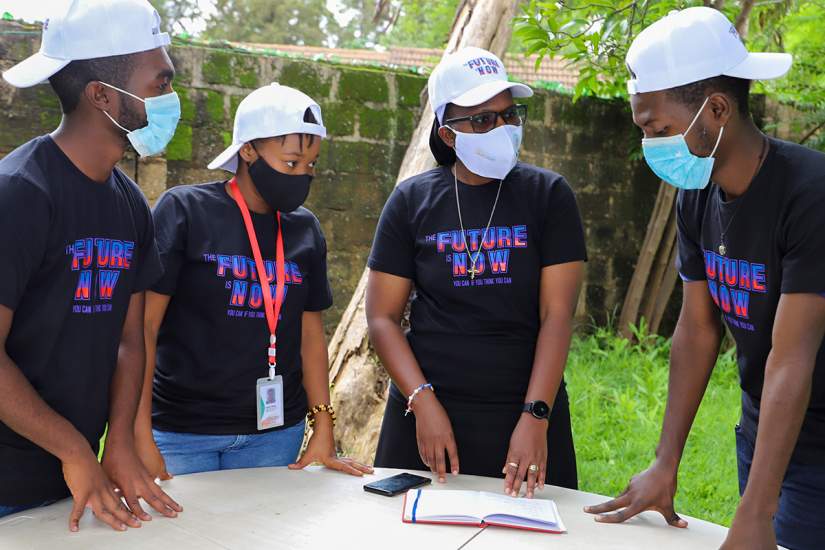 After completing a training on COVID-19 sponsored by Alight and Sisters Rising Worldwide, Sr. Astridah's fear "left [her] immediately" and she felt empowered to relay what she had learned to her community to help prevent the spread of the virus.
"The moment I finished the training I really felt empowered.... the fear left me immediately and I felt I needed to do something about it. [I thought] how do I tell my neighbor and the next neighbor and those at home and everyone in the community that actually we can prevent this virus from spreading," she told ASEC staff.
Citizens of Zambia had the tools and ability to combat COVID-19, however they needed a community leader who understood their circumstances to guide them, a role Sr. Astridah graciously and excitedly stepped into.
Drawing on her prior experience as a radio host, she organized and produced the COVID-19 Awareness Programme, a live radio show where she could broadcast public health messages and pandemic guidelines. Sr. Astridah believed this innovative idea was the most efficient way to reach underserved communities. She stated,
"Radio has an audience that is usually left behind."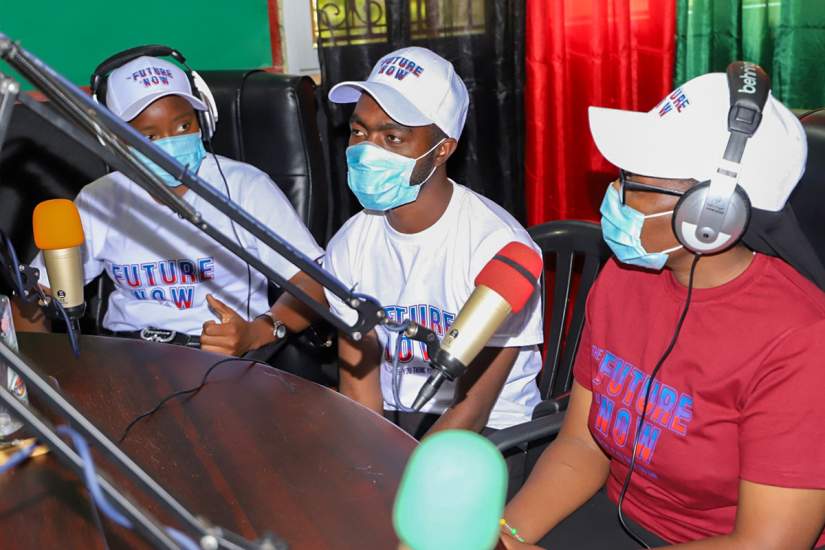 The director of the Center for Health and Risk Communication, Glen Nowak, confirmed that radio is a critical tool for low-income countries during public health crises, such as the COVID-19 pandemic.
Project Impact
What made her project so impactful?
Sr. Astridah recognized that most public health messages regarding the pandemic were only being transmitted in English, which made the information inaccessible to the many citizens of Zambia who only speak in local languages. It's estimated that there are 72 languages and dialects spoken in the country. Thus, Sr. Astridah invited sisters from the community and other congregations to participate in her radio program to translate information about proper handwashing, social distancing and wearing masks into local languages to increase the program's reach.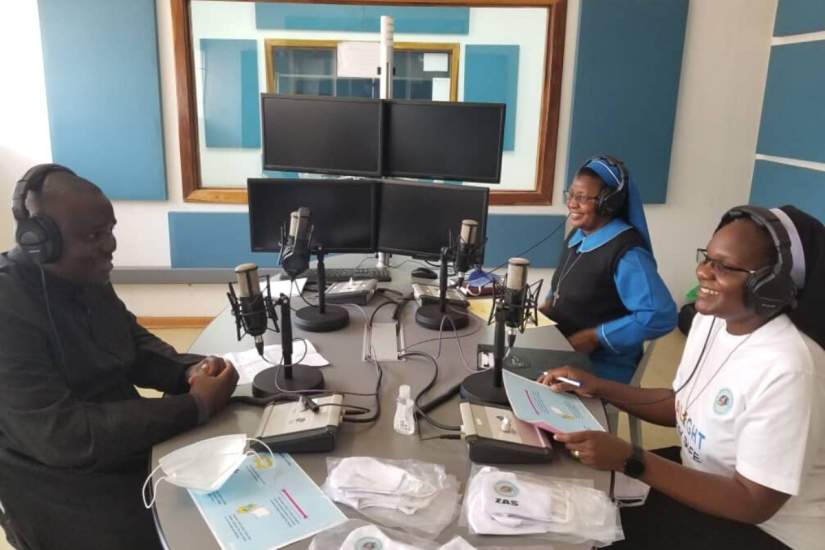 Furthermore, Sr. Astridah was able to provide callers to her show with face masks in an effort to increase engagement. The response was astounding, reports indicate that the COVID-19 Awareness Programme reached an estimated 1.5 million people. Sr. Astridah noted that they were overwhelmed by phone calls during each broadcast. She says,
"...we had so many people phoning in. It would be like one after another and we couldn't even manage to receive all the calls during our talk show."
Another component that made the radio show so successful was that explanations were provided for why preventative measures were necessary. In our interview Sr. Astridah noted,
"If they don't know why they are wearing a face mask, they won't do it."
Bill Gates Names Sr. Astridah as One of Seven "Unsung Heroes of the Pandemic"
Sr. Astridah's radio show has produced a powerful impact in Zambia and other parts of Africa. So much so, that in September, 2020, Bill Gates named Sr. Astridah as one of seven unsung heroes of the pandemic, featuring her in his popular "Gates Notes" newsletter and praising her work on FM 99.1.
Sr. Astridah has taken the leadership skills learned by participating in the SLDI program and used them to reach an audience of 1.5 million people to help ensure the health and wellbeing of her community.
"The whole pandemic has brought humanity together," she said. "We realize that our life is actually short and we need to spend most of it building on what is important. And these are relationships. Getting in touch with one another, being there for each other."