In the town of Nkokonjeru in central Uganda, the slogan "Disability is not inability" is boldly printed on the walls as if to welcome guests to Providence Home for the disabled. In this home run by the Little Sisters of St. Francis of Assisi (LSOSF), one sees the endowment of the Catholic Church through the kindly serving hands of the religious women who care for marginalized members of the society.
The initial story of this home runs back to early 1960s when the Rwandese refugees fled to Uganda. Victims of all kinds of disabilities, the handicapped and the injured, found their way to this home. Some of the members of this home have no local identifications. Others claim Tanzanian citizenship. Providence Home comprises of the physical and psychologically handicapped, orphans, the elderly, deaf, mentally ill and the blind. "I was abandoned by my wife on a hospital bed when she fled away in desperation," says Mufaranga one of the elderly, now confined on a wheelchair. Another resident lost one of his upper limbs when a borehole bar hit him and was left alone without a helper.
The staff of Providence Home includes teachers, a sister nurse, caretakers for the elderly, social workers, an accountant and a driver. There are also volunteers from Asia and Europe. In addition, an occupational therapist teaches the clients how to manage daily life and sensitizes the entire community. A speech therapist helps clients and enhances or enable communication and speech. A physiotherapist addresses physical exercises and cares for their bones. Providence Home also employs staff to care for the gardens and compound.
Sr. Elisabeth Swai is one of the administrators and a social worker at Providence Home. She is also a student sponsored by ASEC under the Higher Education for Sisters in Africa (HESA) program. Sr. Swai is pursuing a Masters degree in Counseling Psychology at the University of Kisubi in Entebbe, Uganda. Addressing such a wide range of patient needs poses a challenge to the sisters working at Providence Home. Sr. Swai says,
"We often get challenged and overwhelmed by certain cases: we have no school for the blind, none of the sisters is specialized in handling mental health, since we found them here, we have to journey with them till they reach settling age. Later on, we shall concentrate on the physically disabled cases."
Special Needs School
Providence Home has a school for the people with special needs. It even attracts students from the neighboring special need schools that offer special need care such as Madera in Soroti Diocese, Bishop West School in Mukono, and Salama Uganda School for deaf. To date the sisters have over 80 students at varied levels up to the University. Sr. Swai comments,
"We assess and take them to schools where they can be helped to study and we look for sponsors for them."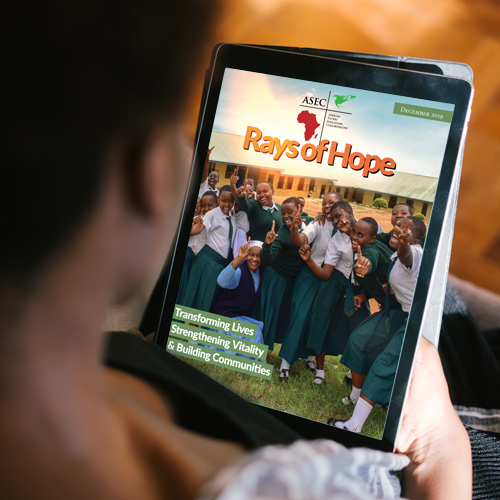 Read Rays of Hope
Learn more about Catholic Sisters transforming poor, rural communities across Africa in our FREE Rays of Hope ebook.
Read It Now »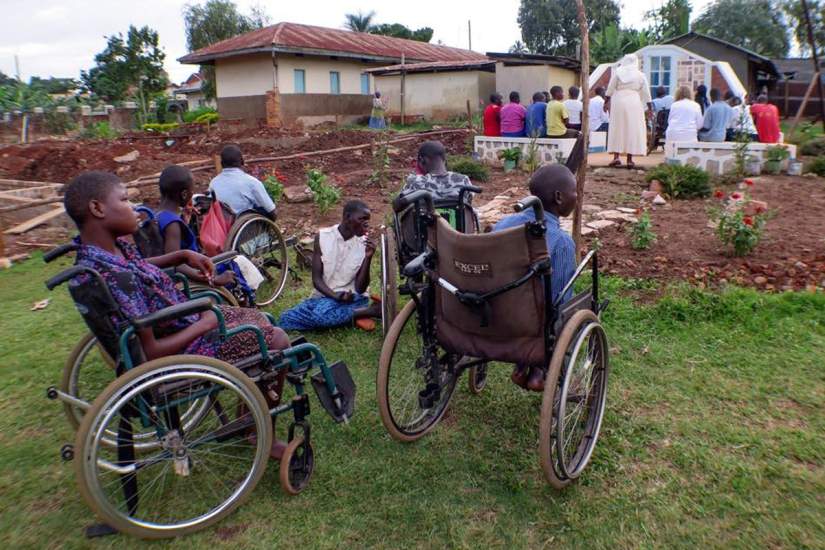 Alternative Farm Projects
LSOSF also engages in alternative farm projects to support Providence Home. Among others, they plant maize, vegetables, bananas, cassava, yams, sweet potatoes, rice, beans, sorghum and soya beans. They keep poultry, piggery, cows and a fish pond and have a green house for tomatoes and a bakery for bread and cakes. All these products are consumed locally and the excesses are sold off to raise funds. Sr. Swai remarks,
"Our members in the Providence Home love cabbages, all the meals are served with cabbages inclusive. We especially make soya meal, silver fish, egg plants, and cabbages to balance their diet. Sometimes after home visit, they came back malnourished, sometimes end up being victims of rape, jiggers, get problems of toilet visits and the like, and we have to start over again! We also have another big challenge of managing cancer patients!"
She continues...
"We depend on local and foreign donors, farm products and bakery for survival and for clearing of bills. The dependents eat bread daily. Among others, the local donors donate food items, sanitary and other items. Others donate in cash and equipment, the members of Providence Home also make handcrafts that caters for some of their personal effects."
What the Future Holds
Providence Home already has a school, alternative farming projects, and weekly occupational and physio therapy and clinics for members of the community. But, they continue to look for ways to improve. For their future, the administration of Providence Home plans to:
build hostels for self-sustainability of the program
continue linking with schools to sell their poultry, vegetables and bread.
keep better records about each clients that would help the in future while resettling them.
develop more educative programs for clients and the local community with the help of an occupational therapist.
develop programs for social workers so they can be educated and informed about managing people with special needs.