In Kenya, 1.6 million people are living with HIV, making the country home to the third largest HIV epidemic in the world. At the height of the epidemic in the mid-1990s, 10.5% of Kenyans were living with HIV.
Since then, Kenya has committed to reducing the spread of HIV. Though the number of annual deaths is still high, it has steadily declined from 64,000 in 2010 to 25,000 in 2018, due in part to preventing mother to child transmission (PMTCT) of HIV. PMTCT efforts have led to the number of children (0-14 years) newly infected with HIV to fall from 12,000 in 2010 to 6,600 in 2015.
Sr. Mercelyne Norah Nyausi, a Catholic nun with the Franciscan Missionaries of St. Joseph (FMSJ), has had a critical role in providing these preventative and life-saving services to vulnerable mothers and children in her home of Baringo County, Kenya. After completing ASEC's Sisters Leadership Development Initiative (SLDI) program in 2015, Sr. Norah began working with people living with AIDS (PLWAs). During her community outreach, she noticed mothers who delivered at home and were part of the HIV/AIDS program often infected their babies. But the area was remote and the closest hospital was poorly managed and understaffed, making it difficult to attend to the needs of at-risk mothers and babies.
Sr. Norah saw how vital maternity services are in reducing the number of HIV infections. Using the leadership, technology and finance training she gained through SLDI, she secured a grant to build the new Baringo Maternity Wing specifically to reduce and prevent mother-to-child transmission (PMTCT) of HIV/AIDS.
"Our maternity [program] received accreditation and it's serving the largest population in the area with quality services rendered by our competent staff," said Sr. Norah.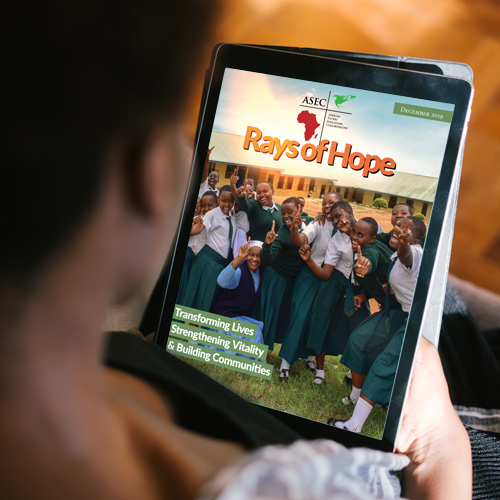 Read Rays of Hope
Learn more about Catholic Sisters transforming poor, rural communities across Africa in our FREE Rays of Hope ebook.
Read It Now »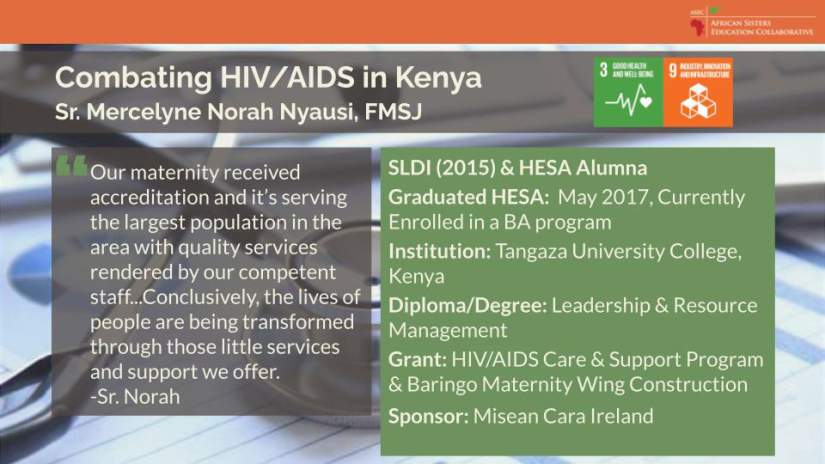 Aside from attending to the physical needs of mothers and babies and preventing transmission of HIV, Sr. Norah also recognized the psychological and societal needs of PLWAs. According to AVERT, "Although awareness of HIV and AIDS is comparatively high in Kenya, and there have been countrywide anti-stigma campaigns, many people living with HIV continue to face high levels of stigma and discrimination. This deters many people living with HIV - particularly vulnerable groups - from seeking vital HIV services."
Knowing this, Sr. Norah looked to provide additional HIV/AIDS support programs after graduating from ASEC's Higher Education for Sisters in Africa (HESA) program. Through HESA, she attended ASEC partner institution, Tangaza University College and studied Leadership and Resource Management. Equipped with this additional education, Sr. Norah secured a second grant to support the Tuvumiliane HIV/AIDS Care and Support Program in Lamu County.
She began the initiative after realizing the rampant stigma amongst PLWAs. Sr. Norah's project provides medical and psychological support, as well as physical and social help to families affected and infected by HIV/AIDS. The program provides education and training in order to combat the common belief that HIV/AIDS is a result of curses and witchcraft. In addition, the program often holds awareness events and interfaith meetings between Christians and Muslims to assist in community collaboration to fight the HIV/AIDS epidemic.
The reduction in the rate of HIV/AIDS in Kenya to one-third of what it once was is widely credited to prevention, including from mother to child and support services for PLWAs. Thanks to the grants she secured with her ASEC education, Sr. Norah was able to provide much needed medical services and social support. As she succinctly put it:
"…the lives of people are being transformed through those little services and support we offer."