According to Human Rights Watch, an estimated 5 million Ghanaians (over 16% of the population) have disabilities, 2.8 million of which have a mental disability.
However, only 1% of the country's health budget is earmarked for mental health services.
But one alumna from ASEC's Sisters Leadership Development Initiative (SLDI) program is helping changing that reality by caring for and advocating on behalf of individuals with physical and mental disabilities. Sr. Zabibu Mipute Juliette, Daughters of Mary and Joseph (DMJ), is an SLDI participant studying Administration. She serves at St. Elizabeth Day Center for Children & Young Adults with Disabilities in the Cape Coast region of Ghana.
At the center around 38 children up to age 17 receive outpatient services such as assistance with feeding, exercise therapy, endorphin release therapy, play and educational services for parents.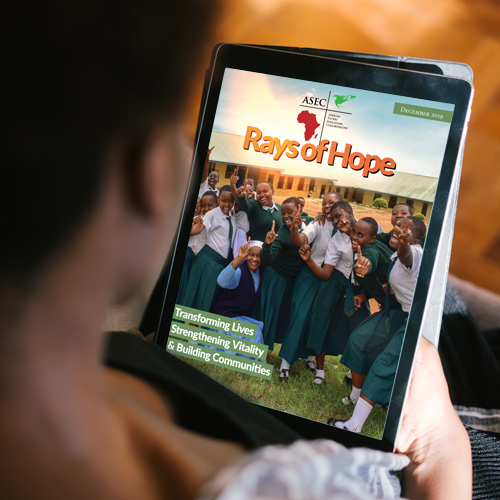 Read Rays of Hope
Learn more about Catholic Sisters transforming poor, rural communities across Africa in our FREE Rays of Hope ebook.
Read It Now »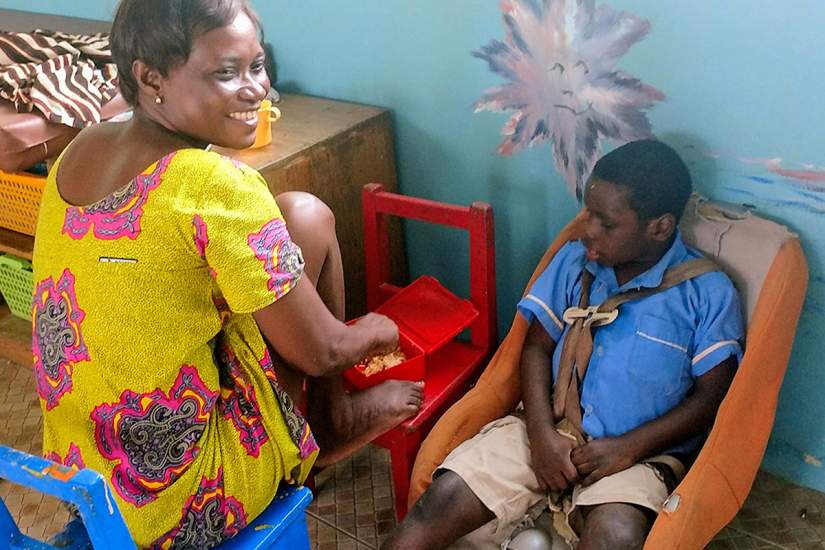 St. Elizabeth's also serves young adults (up to 25 years old) in a vocational center where they teach participants life skills such as bead making, cooking and cleaning. They also help the young adults with disabilities in acquiring jobs. So, they set up a provision shop where one young woman and possibly 3 others can work. If they are able, some of the young adults from the vocational center assist the staff in caring for the children at the day center.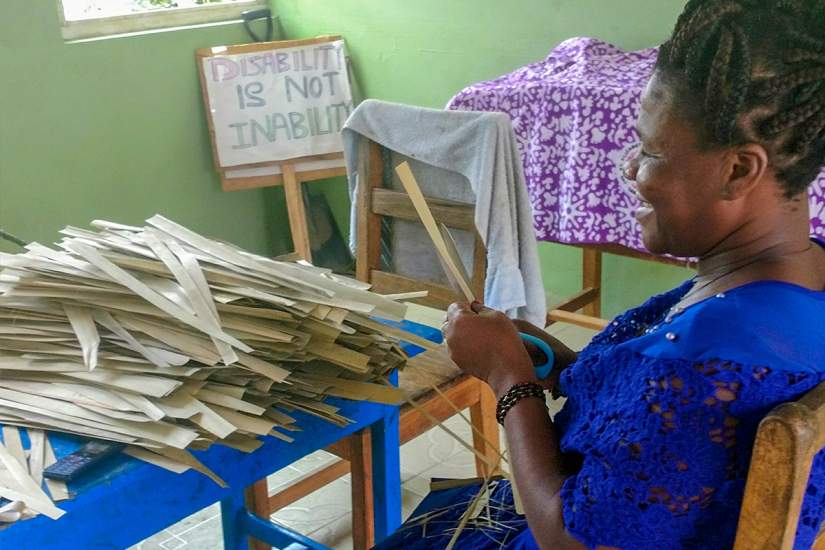 In addition to the day center and vocational center, the Daughters of Mary and Joseph also manage a small children's home and a home for the elderly. 7 children live in the children's home because their families aren't able to care for them. The elderly home cares for nearly 20 elderly individuals rejected by their families due to leprosy.
Support and advocacy for individuals with disabilities
But, caring for individuals with disabilities certainly comes with its financial struggles. To help keep the center afloat, the older children make palm crosses which are sent to England for donations. Sr. Juliette oversees the congregation's farm where they grow and sell maize, plantains and pineapples to help fund the center.
In June, 2018, ASEC staff conducted a site visit at St. Elizabeth's Day Center and met with Sr. Juliette in person and received a tour of the facilities.
Sr. Juliette said SLDI helped her to be accountable and know the value of all the donations they receive. She records the donations in Excel, a skill she learned in the technology workshop of the SLDI program. She also completed a strategic plan for her ministry after learning the process during SLDI training.
Sr. Juliette told ASEC staff that because of the systems she's put in place, she has more time and is able to take on extra work. She sees herself as a steward and has been able to take responsibility for accounts when the Superior is not around.
Perhaps Sr. Juliette's greatest accomplishment is her advocacy work. She works tirelessly to advocate for the acceptance of children with disabilities in Ghana. As a result, the center has seen an increase in donations along with an increase of understanding.