Catholic nuns hold a unique position in their local communities. They live among their neighbors, they see who is in need and what is needed and, perhaps most importantly, they are trusted. It is this rare combination of skills, trust and working "on the ground" that places these sisters in a critical role during times of emergency response.
Thousands of the more than 38,000 Catholic women religious in the African countries ASEC serves (See, Holy, 2018) find themselves on the front lines of crises ranging from the current COVID-19 pandemic and other infectious diseases to medical care for trauma emergencies and responding to the fallouts of war.
Sisters who have participated in ASEC programs are using their skills and education to better respond to crisis in Africa. Since 2007, ASEC's Sister Leadership Development Initiative (SLDI) program has provided sisters with administrative and financial training. Through three, one-month workshops over three years, sisters gain practical skills and confidence to become leaders within their congregation and surrounding community.
Since 2013, sisters in the Higher Education for Sisters in Africa (HESA) program have had the opportunity to access higher education through partnerships with higher education institutions in Africa and the United States. Sisters study together as a cohort of 4 to 20 sisters and become a support network to one another while earning their degrees.
The education these ASEC programs provide may not at first seem like skills that are vital in times of emergency, but without a doubt, sisters are better equipped to respond in the most urgent and severe circumstances because of their ASEC education.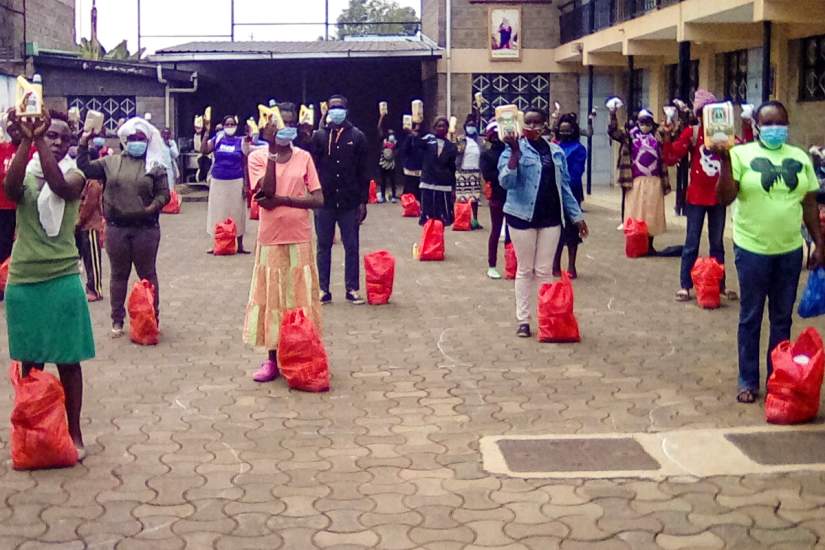 Sisters Responding to COVID-19 in Africa
COVID-19 has affected the worldwide population and Africa is no exception. A number of sisters from ASEC programs have taken their skills and education to respond to the over 4 million cases of COVID throughout Africa.
Sr. Astridah Banda, OP, a Dominican Sister from Zambia, participated in a web design course through SLDI. Through the course, she not only further her IT skills, but also learned the importance of telling a good story and how quality communication can build community and spread information.
This training was key when the first cases of COVID-19 were discovered in her area. Most of the COVID-19 prevention messages were distributed in English and Sr. Astridah felt a sense of urgency to act and translate the information into local languages. She started a weekly radio program that disseminated prevention information, reaching over 1.5 million people.
Sr. Louisa Abid, SST, a member of the Sisters of St. Therese of the Child Jesus of Buea in Cameroon, is another SLDI participant and a nurse with a master's degree in Public Health. Since completing the SLDI Finance Track, she has been named the Provincial Health Coordinator for Catholic Health, a role in which she supervises over 400 employees to ensure quality and affordable healthcare.
From the start of the COVID-19 pandemic, Sr. Louisa saw first-hand the critical role women religious would play in the health crisis in Africa.
"It [was] very clear that if every other health care worker would quit the hospital for fear of being infected with COVID-19, religious women will have to be there to bring Christ to the dying and give hope even when all hope seems lost."
Sr. Louisa's immediate thought was how to best protect the lives of these front line worker sisters so additional lives could be saved. She began an initiative to provide education and personal protective equipment (PPE) to religious women. She sought funds for this project, which resulted in 107 women religious each receiving a face shield, surgical gown, disposable face masks, a supply of hand sanitizer and a training manual. Items were bagged and marked with the contents and the name of the donor that provided funding for the care package.
Sr. Caroline Wanjiku Munene, DSH, also saw the need for supplies on the front lines of she is studying for her master's degree in spirituality and religious formation through HESA and our partner institution Tangaza University College in Nairobi.
Sr. Caroline recognized the importance of serving not just the infected, but also the affected. She witnessed the devastating impact COVID-19 has had on the local economy and how the loss of income left many without food. She approached donors for funds to purchase food for families in surrounding areas. Sisters were able to package appropriately rationed rice, sugar, oil, flour, soap, beans and salt for distribution.
Also aware of the potential health risks involved with distribution, she purchased temperature thermo-guns, hand washing machines, sanitizers and isolation tents. Distribution was also staggered to ensure social distancing.
"Spreading the awareness, demystifying the myths and teaching people on how to prevent [spread of the virus] by giving them the right information was one of our greatest achievements," said Sr. Caroline. "It helped to reduce unnecessary fear, thus promoting courage by spreading hope. All this we achieved by creating meaningful publications and proper audio-visual content in … native languages in order to reach out as deeper as possible in the villages."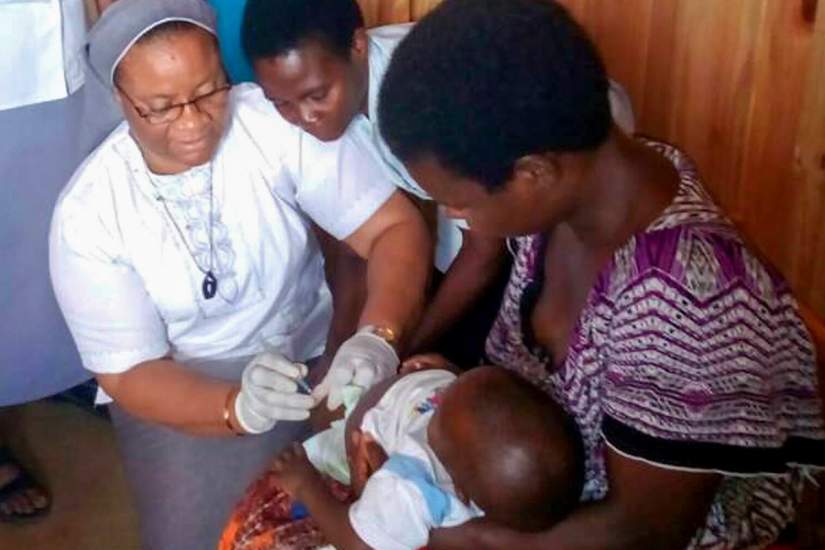 Answering the Call for Urgent Healthcare in Africa
The Medical Missionaries of Mary (MMM) sisters know all too well that COVID-19 is not the only pressing healthcare crisis in Africa. MMM sisters are trained in a variety of health-related professions and come from 20 countries, including Malawi. As one of the poorest countries in the world, Malawi suffers from a disproportionate burden of infectious diseases, particularly malaria. A blood-borne illness spread by being bitten by an infected mosquito, malaria is the leading cause of death among children under five.
Sr. Grace Akpan, MMM, a member of the congregation and an alumna of SLDI, serves at St. Kizito Integrated Health Centre at Mtsiliza in Lilongwe, Malawi where she sees the effects of malaria on her community. Sr. Grace says the clinic recorded over 700 cases of malaria in just a 3 month period. Most people who come to the clinic are at the peak of the illness and need immediate care.
Fortunately, the clinic can provide treatment through an injection of Artesunate. Sr. Grace has witnessed how effective the drug can be with critical patients, but it is also a large expense for the clinic at €1.90 ($2.22 USD) per bottle. Most patients cannot afford the treatment, but Sr. Grace is hopeful the clinic will gain enough support from the community for the hospital to be self-supporting.
Sr. Harriet Baker, IHMR, a member of the congregation Immaculate Heart of Mary Reparatrix (IHMR) in Uganda, is another professional working towards improving healthcare for the vulnerable. An alumna of HESA, she studied for her diploma in nursing at St. Francis Hospital Nsambya Training School and currently serves as the Nursing Director of Nkozi Hospital.
As Nursing Director, Sr. Harriet faces many challenges ranging from patient services, financial constraints of patients, overcrowding in the hospital and low wages for employees. But some of the toughest challenges come from the need for urgent care.
Sr. Harriet explained that people in the community avoid seeking treatment for their ailments because they cannot afford it. By the time a patient has worsened to the point of going to the hospital, treatment is much more expensive and involved than it could have been.
To help alleviate this, Sr. Harriet created a one-day community medical camp. Staff was able to perform check-ups, screenings and treatment as needed, as well as provide educational sessions about various health topics and services the hospital provides. Sr. Harriet secured medication and donations for the event through local resources and connections, allowing 680 patients to be seen and treated.
Sr. Harriet is also heavily involved in fundraising efforts to build a new Accident, Emergency and Trauma Center. As the only hospital along the busy Kampala Masaka highway, all accident victims are brought to Nkozi Hospital even though most days, they do not have space to intake patients. Sr. Harriet has helped plan a variety of fundraising events to finance the new center ranging from car washes to marathons. Construction has begun and Sr. Harriet is looking forward to finding more ways to finance the project, one event at a time.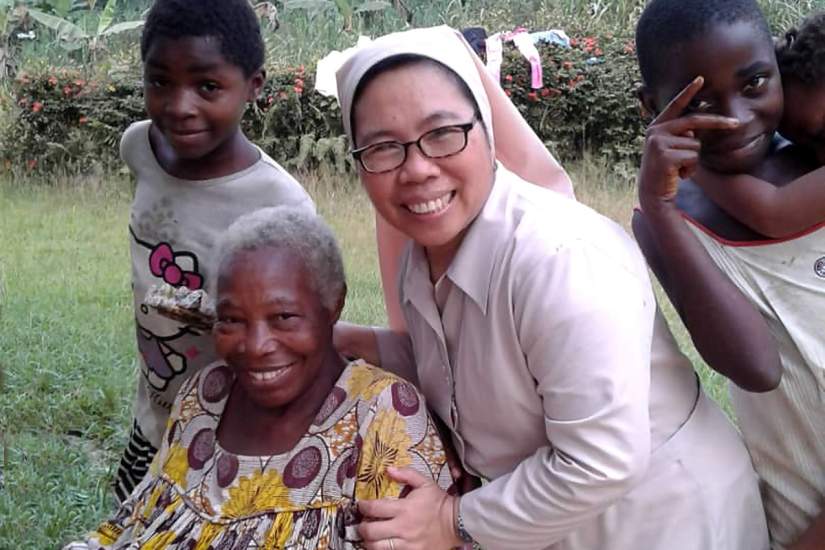 Responding to Urgent Needs in the Time of War
Emergency response can mean more than just medical care. Catholic sisters have also been providing critical response in Cameroon, which has a long history of ongoing, violent conflict divided along colonial lines.
Sr. Marivela Condez, FDZ, a Daughter of Divine Zeal, is an alumna of SLDI who found herself and her community in the heart of the crisis. She writes,
"Our community left Kumbo [Cameroon] and joined our Sisters in the diocese of Kribi…due to the socio-political crisis in the Northwest and Southwest regions."
Shortly after her community fled their home for safety, they received word that their home had closed permanently due to the dangerous conditions and she would be relocating to Indonesia.
Despite this devastating news, Sr. Marivela decided to keep her plans to attend an ASEC gathering. At the event, she and other participants worked on project proposals and grant writing for times of crisis. Her group specifically planned how to assist internally displaced persons (IDPs) through distribution of food and other necessities.
While she was happy to participate in the program, Sr. Marivela wasn't sure when she would put these skills to work, given her impending relocation. Instead, she returned to Kumbo to gather her personal belongings, passing destroyed houses, burned vehicles and abandoned towns along the way. When she returned to the convent, nearby residents gathered in greeting. Sr. Marivela quickly put her planning skills to use and redistributed the food and other items left at the convent to the neighborhood residents in need. She said,
"Through the material aid that I shared to the people, I somehow met their urgent needs and that made them very happy."
When Sr. Leonarda Tubuo, SST, a Sister of St. Therese of the Child Jesus of Buea, graduated from the SLDI Finance Track, the war in Cameroon was at its worst. Though she had extensive training in project and grant writing, many of the projects she had been working on were halted because of the risk of looting. Jobs were scarce and farmers were even being killed on their farms.
"Donors want to see that we learn how to fish rather than to keep giving us fish. In the wake of war, even teaching how to fish became very difficult," said Sr. Leonarda. "There was no other way than for us to stick together and create wealth out of nature."
She and the other sisters started a small farm using the few resources they had. Slowly, they developed a sustainable farm consisting of crops like tomatoes, plantains and corn and animals such as pigs, quails and other birds.
Sr. Leonarda explained the sustainability cycle:
"The manure from the pigs was used on the farm to help the plants grow. The droppings of the quails and chickens served the same purpose. The quail eggs were sold and the proceeds used to buy feed for the pigs and the birds themselves."
Not only did the farm become a sustainable source of food and income, it also serves as a refuge in a time and place of upheaval.
Sr. Leonarda credits her ASEC education for giving her the ability to respond to the pressing crisis in Cameroon.
"I was able to… run the projects effectively because of all the knowledge I had gathered from my training."
Catholic sisters have become instrumental in responding to times of crisis in Africa. As trusted members of their local communities, they are able to use their ASEC-sponsored education to quickly and effectively take action in emergency situations.
As Sr. Caroline said,
"I feel humbled to see the dedication of ASEC in empowering Sisters so that they can continue to bring more light in the society and in the whole of Africa."