In Sr. Mary Sarah Chandiru's congregation, Missionary Sisters of Mary Mother of the Church (MSMMC), many factors affect a sister's effectiveness in her service work.
First, MSMMC sisters in Uganda have limited leadership skills. Sisters also face a highly centralized Catholic model of corporate governance.
One of the most challenging problems is that an individual's level of spirituality, as opposed to their skills and abilities, determines the leadership roles.
But Sr. Mary Sarah is using her ASEC education to improve systems within her congregation. And she's doing this by uplifting the other women religious around her.
First, she wrote a grant to support her congregation in sponsoring a retreat for 50 MSMMC sisters.
Now, Sr. Mary Sarah wrote another grant to build upon what the sisters learned in the retreat. Through this grant, MCMMC sisters in leadership positions will attend workshops, retreats and formal courses. They'll also receive hands-on training, mentoring and coaching.
The goal is to enhance each sisters' leadership skills and improve their effectiveness in their roles, while strengthening the congregation's governance practices.
Sr. Mary Sarah believes that governance and spiritual leadership training are effective in increasing collaboration and boosting organizational performance.
"The goal of this project is to strengthen the leadership and governance practices required to help the Missionary Sisters of Mary Mother of the Church (MSMMC) sustainably improve their apostolate work and achieve the congregation's mission," she says.
Specifically, the objectives of her project are:
To improve leadership and management practices of MSMMC programmes (education, health agriculture, social work) and religious communities;
To improve team work and work environment of MSMMC programs and religious communities;
To provide governance/leadership tools and processes for defining and addressing MSMMC's challenges;
To provide results through projects that support organizational mission and vision.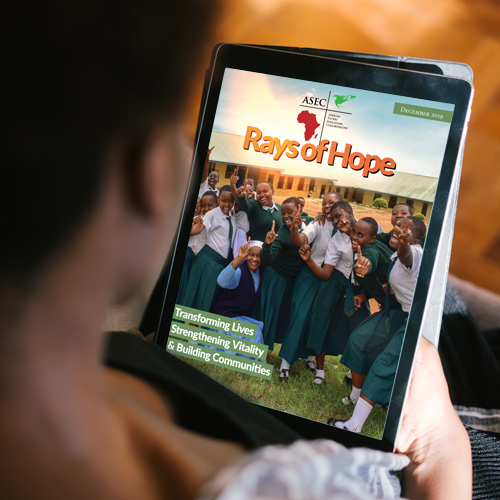 Read Rays of Hope
Learn more about Catholic Sisters transforming poor, rural communities across Africa in our FREE Rays of Hope ebook.
Read It Now »
In addition to her achievements within her congregation, Sr. Mary Sarah was also a model student in ASEC's Higher Education for Sisters in Africa (HESA) program.
Many of the philosophies she's now implementing within her congregation she learned while studying for her Bachelor's in Business Administration through HESA at ASEC's partner institution, the University of Kisubi, in Uganda.
Her achievements were recognized at the inaugural 2019 HESA Partners Conference, where she served as a representative on the HESA alumnae panel.
By building leadership skills and strengthening her congregation, Sr. Mary Sarah believes that not only her fellow sisters, but all the people within the communities the MSMMC serves, will reap the benefits.