In the 21 years since the Catholic University College of Ghana (CuCG), an ASEC-HESA partner institution, was established, the institution built numerous programs that offer innovative and holistic education to students. In particular, the Faculty of Health and Allied Science, established in 2007, provides interdisciplinary courses that prepare its students to meet the current challenges facing Ghana's healthcare system.
In light of the COVID-19 pandemic, this type of education and training is imperative to improving quality of life throughout the country. Despite this long history, the Faculty of Health and Allied Sciences Student President had prior to 2021 never been a religious woman. Sr. Grace Akunna John-Emezi of the Handmaids of the Holy Child Jesus (HHCJ), a ASEC-HESA student earning her Bachelor of Science in Nursing, changed this statistic.
Sr. Grace became the first woman religious elected as Faculty Student President at CUCG on the 26th of June, 2021, an office she held for the 2021-2022 academic year. In this capacity, she oversaw the faculty student body composed of those studying general nursing, midwifery, public health, and public health nursing. Within the leadership team were 11 other students, all young people, whom she directed. The position required multitasking tasks such as: promoting breast cancer awareness throughout the institution and community, account auditing, facilitating a faculty week celebration, and fundraising. Sr. Grace successfully led efforts to gather funds through saving of student dues, laboratory coat and name tag sales, and budgeting. This allowed the team to purchase a much needed projector for the department. In addition to her role as Faculty Student President, Sr. Grace has remained an excellent student who is excelling in her studies.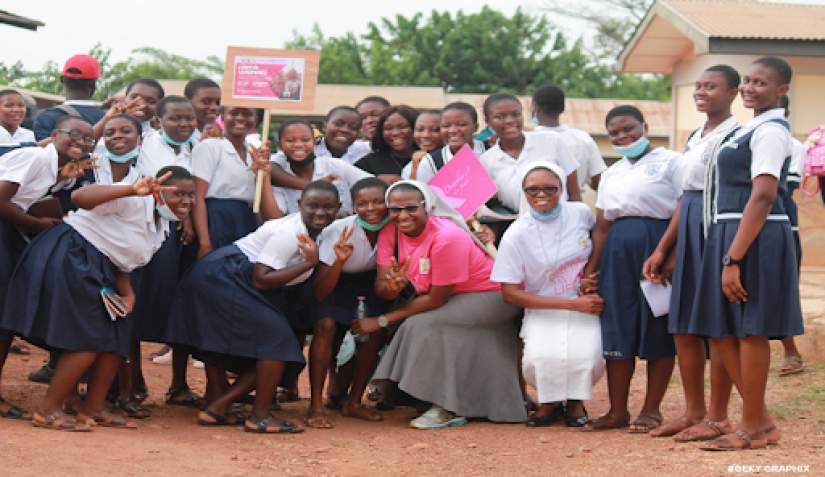 Sr. Grace says,
"It was very challenging initially, trying to balance the office with my prayer life and also studies. Working very late at night at the office when the students need you, working every day of the week including Saturdays and Sundays because of the weekend students, attending online classes and still attending to the students that come to the office, etc." However, she credits her success to the time management skills she learned through HESA Reflective Learning Workshops which prepared her to balance her office, prayer life, and studies."